WHY is Ghost so good?
It's not....
IT IS GREAT!!
Here is why
No clunky interface
No delays - no spinning ball when you update a post
Write your articles the same way you write your own notes thanks to the use of the Markdown language
The perfect tool for non-technical users due to its small learning curve
Ridiculously fast!!
The biggest advantage
I believe the biggest strength of Ghost is that it caters to the million of users that really just want to be able to write their articles and sleep well at night, knowing that there is nothing outside of their comfort zone that they couldn't handle with their blog.
no complex setups
not much to maintain
ghost is even easier to write in than in a word processor e.g. MS Word
the small learning curve that exists is just to learn the super simple Markdown Language
A look at the interface
Take a look at the admin panel of Ghost.
Below is a screenshot of the interface from when I was writing this post.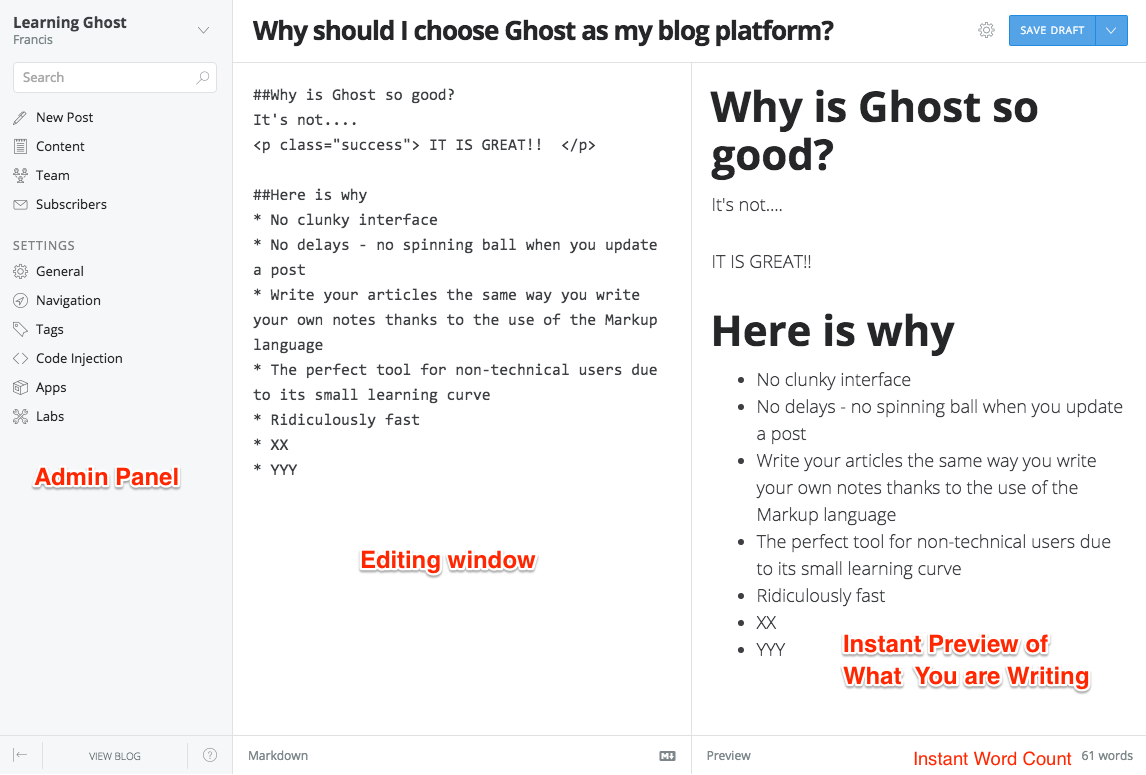 Notice how:
the interface is very clean and intuitive
you can instantly see the post will look like as you write it
you can see how many words you have written instantly in the bottom right corner
you can stick to just regular Markdown Language if you are a non-coder
if you are a coder, you can add HTML/CSS code directly into the editing window
CONCLUSION
As a professional in the web industry, I have worked on many platforms including Unix, Windows and Mac and have been involved with tons of CMS's, Project Management Systems, ERP's, Text & Code Editors and by far:
The Ghost blog platform has the perfect balance between EASE-OF-USE while still maintaining POWERFUL features.
Get your blog up and running now on:
Learn about the difference between Ghost(Pro) and self-hosted Ghost (e.g. on Digital Ocean)